Only a few days are left until Christmas! Even though it's been a rough year, we are all looking to spread the holiday spirit, no matter how little. So as you roll out your Christmas campaigns to cater to customers, you need the right strategies and promotions to make sales.
You may have kicked off Christmas marketing campaigns months ago or at the start of the holiday season. However, these Christmas marketing tips will help you secure your spot on this year's nice list. Let's begin!
Offer the Best Customer Experience
While the holiday season is often a celebratory time of the year, it can be very stressful for customers. Considering the events of this year, you want to alleviate consumer stress as much as possible. For example, if you run a gift shop, you can provide a gift guide on the best gift ideas for loved ones. You can also offer gift wrapping services for free or a very little token after purchasing.
The focus should be on providing the best customer experience. From inquiry to after-sale services, customer experience should be seamless. As such, content and services should give helpful information to customers, but it should motivate them to make more purchases from you.
Utilize Personalized Email Marketing
As Christmas approaches, your target market is rushing to make their last-minute purchases. Thus, they do not have much time for one-on-one encounters, phone calls, or traditional mails. The best way to reach them during peak season is via email marketing because it's guaranteed they'll check their email inbox. Since they are aware, a ton of offers come into their emails.
As they are looking for the best deals, you need to engage the subscriber personally. Start by addressing them with their names when sending your Christmas greetings. Also, use a catchy subject and ship the items they will find useful. If you need well-written personalized email content, custom writing services like Best Writer Online will come in handy. A simple email marketing strategy makes a world of difference in engaging your customer and increasing conversion rates this season.
Join in on Free Shipping Day
December 14th is known as a free shipping day, and it's something you'll want to utilize this festive season. It is a handy tip for eCommerce businesses. It's a seasonal promo day where consumers will look for online retailers that offer free shipping and guarantee delivery by Christmas Eve. Hence it is a big deal to most customers since the survey shows that 20% of customers are willing to pay for shipping. Joining in on world shipping day allows you to convert your target market that is not keen on paying for shipping. Don't forget to add the #freeshippingday hashtag when creating your Christmas marketing content.
Have Christmas Themed Landing Pages
During the festive season, you can create a few more landing pages that are Christmas themed. It is an excellent way to increase your conversion rates. The content of your seasonal landing pages should target holiday consumers and offer holiday-themed promos.
To get useful themed landing pages, ensure that you pick the right landing page template. Include Christmas colors, visuals, and the perfect value proposition. It could include useful holiday tips, discounts, free shipping, etc. Again you can make use of writing service reviews like Online Writer Rating to craft compelling value propositions.
Update Your Product Descriptions and Images
It's a festive season, and your product descriptions should reflect this. Rather than using existing descriptions, now is a good time to tweak them and make them feel Christmassy. Also, consider adding a bit of Christmas sparkle to your product images. Any seasonal marketing technique you're using should also reflect across your product descriptions. Ensure that you maintain the same aesthetics all through from your emails through to your website.
Create Christmas Themed Social Media Posts
Social media is another useful channel for engaging with customers this holiday season. Remember, almost half the world population is using at least one kind of social media. You are open to new and existing customers with just a single post. You can highlight your business values as you share the holiday cheer. Social media Christmas marketing strategies should be unique, fun, and engaging.
Ask your audience to create Christmas wish lists of items they'll like to receive as gifts or ask for gift ideas and suggestions. Encourage them to share it with their followers to help increase your audience reach and leads. Your images should be stunning and follow the season's theme. The use of appropriate hashtags can also increase discoverability. All content should be relevant and informative. Additionally, you can run holiday giveaways and share new products or services you want to promote.
Tell an Enchanting Christmas Story
Storytelling is another effective Christmas marketing strategy to keep in mind this festive season. Everyone loves a good story, especially one that resonates with them. Make use of classic Christmas carols and share a story of your brand the audience connects with on an emotional level.
Let them know you understand their pain points this season and provide solutions. However, you do not need to be louder to stand out. The aim is to be exceptional, and you can do this by telling a compelling Christmas story. Tell a short and straightforward story and then round it up with a call-to-action.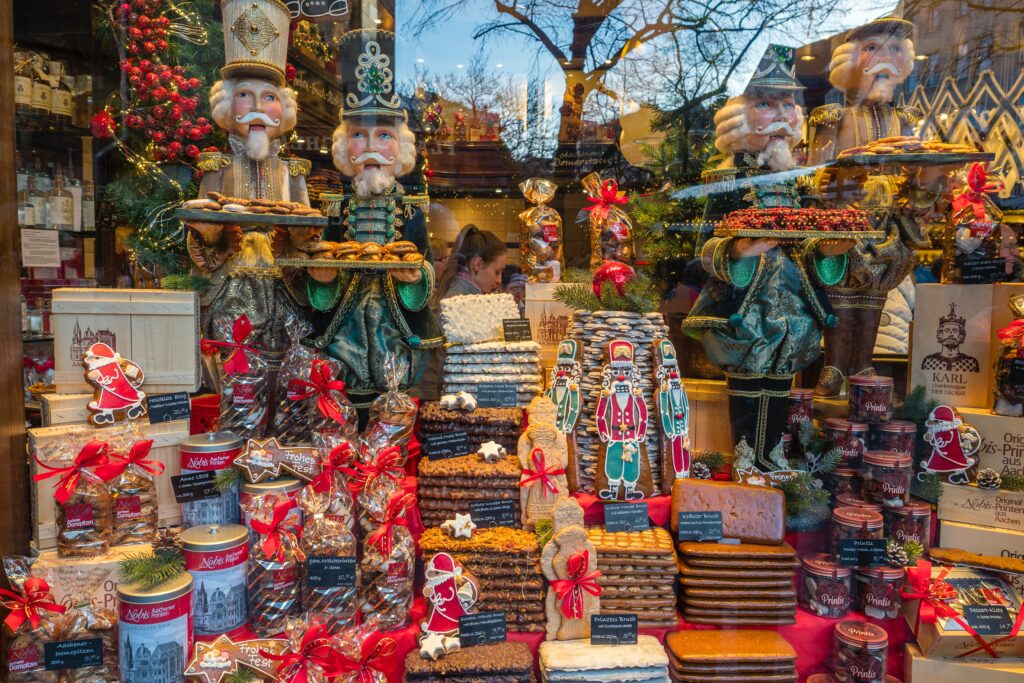 Consider Festive Partnerships
Partnering with a non-competing business this season is an excellent way to expand your target audience. For example, if you sell wine openers and glasses, this is a perfect season for partnering, considering the amount of wine bought this season. You can partner with a business that sells or produces wine.
The promotional flyers can read, "buy a set of wine openers or glasses and save $10 when you spend $60 or more at XYZ wine store. Each company provides vouchers to others to give to their respective customers when fulfilling out orders. Not only will this introduce more choices to the consumer, but it will also raise your product to a new market.
Reward Customer Loyalty
One way to retain existing customers and attract new ones is to have an effective loyalty program. Now is the time to utilize your loyalty program with tempting Christmas offers. Send them samples of new products, give them gift vouchers or exclusive online discount codes. You can provide rooms for your December vouchers to be redeemed in January. Such gestures are bound to make the customer feel significantly valued. It also increases the chances of them making a repeat purchase.
Create a Sense of Urgency
As Christmas Day draws nearer, customers shop with an increased sense of urgency. When creating your content, make use of phrases like "only two days left." If you don't have a countdown timer on your website pages, now is the time to latch onto this most straightforward Christmas marketing idea. It lets your customers know that if they don't act fast, they'll risk disappointment. Add products that are limited to the festive season and keep to your word.
The festive season is one that most people anticipate. However, it is not without its challenges for shoppers, business owners, and marketers alike. Using these 10 Christmas marketing tips we've listed above, you can engage your audience, maximize your business's exposure, increase conversions, and provide an exceptional customer experience this festive season and beyond.