This is probably the most common question in an interview, that interviewees often see this as a hackneyed query made just for the sake of asking. Little do we understand that this is probably the most important question because the answer would illustrate how one sees himself as a fit for the position in an organization given his experience and expertise. An informed and poignant response would surely build a sense of trust and comfort for the employer.
Here is a strategy that you should follow before going for any interview and you can call it a REST strategy.
1. Do thorough "Research"
It is important that you have a thorough understanding of the organization and the position you are applying for. In many cases, interviewees appear before the employer with little or shallow and often having a vague understanding of the job responsibilities and the requirements.  Adding to the problem is an unexpected lack of awareness about organizational values & culture  that is very crucial to convince your employer about your interest and commitment to be a part of it. The solution to these problems is to do a thorough research and this should include but not be limited to:
Understanding the job description (focus on requirements, roles and responsibilities),
Visiting the organization's website for better a understanding of the actual business operations and values,
Finding out what is available on the internet both good and bad news so that you are well-informed, and
Talking to people who currently work or have previously worked at the organization to get personal insights about the job and company.
2. "Examine" Your Caliber, Expertise and Experience:
Once you are done with the first step,  it's time for self-reflection with reference to the job description and the deliverables of the job. Such self-reflection can be difficult for two reasons. Firstly, some candidates often underestimate themselves and presumptuously perceive them to be less qualified and thus miss out on the opportunity. Secondly, a group of candidates over- evaluate themselves and thus do not tailor their CV in line with the requirements and responsibilities of the job.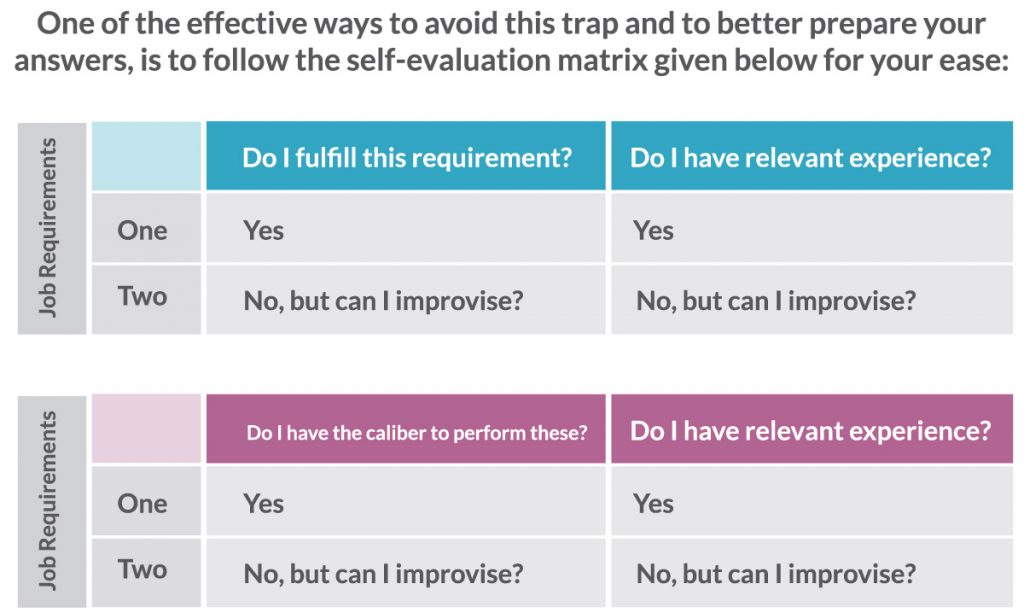 3. "Strategize" on Your Responses
Based on the matrix that you have developed in the previous step, it is time for you to make a personal plan to deliver the best response to this question. Though your brain work will help, make sure you put these into visuals so that you can prepare yourself with compelling and insightful responses rather than wishful and broad answers. One rule of thumb  is to make a blend of your expertise, previous experience, ambition, and aspiration in your responses which make you the best-suited person for this job.
4. Have a "Test Run"
Fresh graduates often shy away from such mock interviews but such drills will surely make you more comfortable during the actual interview. Candidates with some experience sometimes see this as a waste of time, thinking that they can nail every interview. Probably they have the capabilities to do so but practice will surely increase their chances as the old adage goes 'Practice makes a man perfect'. So have one or two rounds of practice, depending on your need.
A note of caution: this is a framework that envisages to provide strategic guidance to be better prepared  for  the interview/written application. It can be modified or altered, if needed.
You may have a question, "does this strategy guarantee me a job?" And the honest answer is "No, it does not" but it will make you well informed about the position you are applying for, the organization and most importantly why you are a good fit for the position. This will definitely boost your self-confidence and make you more relaxed compared to others which will work as a competitive edge.
We can sincerely hope the "REST" strategy, if applied properly, will help you rest peacefully before any interview.
Good luck with preparing yourself!